Thanks for your interest in Evolution Canine
We look forward to hearing from you, and answering any questions you may have. Please complete the form below. Be sure to include your dog's name, and any behaviors you would like to modify.
Please note: All fields are required. Please check your email (including your spam folder) for a response within 1-2 days of your inquiry. Your initial phone consultation will be scheduled via email.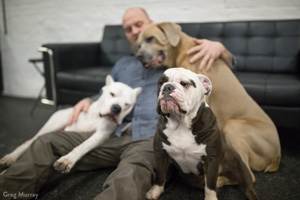 Email: [email protected]
Evolution Canine
1303 Washington Ave
Cleveland, OH 44113
---
Payment & Refund Policy
We require full payment in order to reserve a place for your dog in a training program. Payment is due within 24 hours of receipt. Should you need to cancel your reservation, $500 is non-refundable. The remainder of the fee is refundable up to 30 days prior to your dog's scheduled drop-off date. For cancellations 15-29 days before the drop-off date, 50% of the remaining fee will be refunded. Cancellations within 14 days of the drop-off date will not be refunded.
Do you know how E-Collars work?
We use low-level, communication-style, modern E-Collar training, which looks nothing like the E-Collar training of the past. These collars do NOT deliver a shock; they stimulate the muscle and and allow communication in a humane fashion from a distance. Learn more about E-Collars here
Want to learn more about our services?
Evolution Canine provides different training options for you and your dog. To learn more, please review our Services page